Mrs C Lewis and Mrs S Begum
Dahl class 2019
It's Spring Term 2 and the weather is beginning to warm up.   Please remember to send your child dressed for the weather.
We were so lucky to have Teaching Talons come and visit the school.  This was a great introduction to our new Integrated curriculum subject; The Hodgeheg.  We met some hedgehogs, and their friends. 
What is The Daily Mile?
The Daily Mile is simple and free and gets children out of the classroom for fifteen minutes every day to run or jog, at their own pace, with their classmates, making them fitter, healthier and more able to concentrate in the classroom.
Guided Reading
This term Year 3 are reading The hodgeheg by author Dick King Smith.  
The Hodgeheg is about Max the hedgehog.  He loves to eat juicy slugs and snails!  Max wants to be able to cross the busy road, but things don't go as planned...
Maths
Inspire Maths builds firm foundations and a deep understanding of mathematical concepts through a concrete-pictorial-abstract (CPA) approach. Concrete, pictorial, abstract (CPA) is a highly effective approach to teaching that develops a deep and sustainable understanding of maths in pupils.
Concrete
Concrete materials help to develop students' mathematical language, encouraged discussion (both teacher-student and student-student), sharpen the ability of the students to question and probe their own and their peers understanding.
Pictorial
The pictorial stage is the next step. It is known as the "seeing" stage and involves using images to represent objects to solve a mathematical problem.
In this symbolic stage a student is now capable of representing problems by using mathematical notation, for example: 10 ÷ 2 = 5 Students only use abstract numbers and figures when they have enough context to understand what they mean This is the 'final' and most challenging of the three stages.
This term we are converting units of measurement, mass and volume. Children will use concrete resources to carry out practical investigations, estimating and measuring length in cm, m and km; weight in g and kg; and volume in ml and l.
Primary Writing Project
In English we are continuing to follow the 'Primary Writing Project'. This approach is motivating our children to write the most amazing stories along with, deepening understanding about writing and refining skills so that children make good progress and standards are raised.
Physical Education
PE is on Monday and Thursday.
This term we will having hockey and dodgeball. 
Hopefully the weather will stay dry and we will be spending more time outside so please send your child with outside trainers and warm, black tracksuit bottoms and a white t-shirt.
For indoor PE children must have their black shorts, white t-shirt and plimsolls for this.
Please note: For health and safety reasons please remove earrings on these days. Children must have the correct PE kit in school as we have limited resources available for loan.
Reading and Library
Please bring reading books to school everyday, our library session is on a Thursday.
This is a great opportunity for children to change their reading books and library books!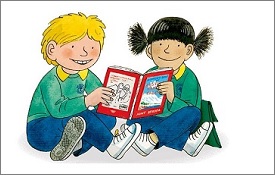 Please remember to read with your child on a daily basis and record this in their reading record - there are RED prizes to be won!
Topic
We are studying a range of subjects as part of our topic this half term.
Geography
In geography we will be developing our knowledge and understanding of the UK.  Naming and locating cities and counties, and comparing human and physical characteristics in the environment.
Music
We are very lucky to have, The Luton Music Service teach our music lessons.  This term we are learning to play the Djembes.
Science
In science we will be discovering all about shadows, space and light. 
-The children will recognise they need light in order to see things.
-Notice that light is reflected from surfaces
-Recognise that light from the sun can be dangerous
-Observe shadows and explore how they are formed
-Find patterns in the way size of shadows change
Computing
We will be learning about programming this term.
Italian
We are very fortunate to be having Italian lessons this year. So we will be saying Buongiorno! to our new Italian teacher and learning lots of new phrases as the year goes on. 
Below are some number that we can all practise: 
Value of the month
Value homework - Pink book (to be handed in the first Monday of each new term) 
Talk about what the value means to you. 
What does the value mean to your family? 
How do you show this value in your home? 
Photographs, drawings, poems, thoughts are all acceptable ways of displaying your values homework.